OUR FRESH BEEF SELECTION
IS EXCEPTIONAL
Farm fresh Steaks, Filets, Ribs, Tenderloin, Roast and more.
Selecting the best, most consistent cuts of fresh beef is a top priority at Bunzel's. We are committed to buying All Natural Beef, we feel confident that's a good choice. It's important to our customers to know what we sell is the best for their family. We buy beef with no artificial colorings, flavorings, ingredients, preservatives or antibiotics.
For more than three decades, our goal has been to bring farm fresh meats to your table as simply as possible with an assurance to great quality. We are proud to have nine butchers on staff at Bunzel's. If you're looking for a special cut or a specific size steak or roast, just ask and we can prepare it how you want it.
Come on over to Bunzel's, we'll be happy to see you. We invite you to try any of our prime, choice and select meats, homemade specialty sausages or our award-winning beef jerky today!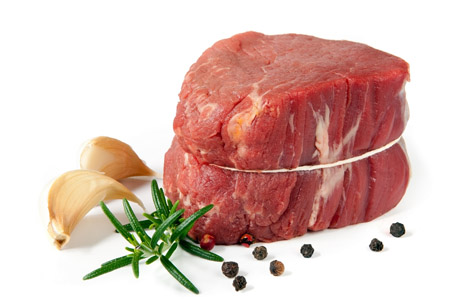 A Fresh "Barrel-Cut" Fillet of Beef Tenderloin cut right from the center (the best part!).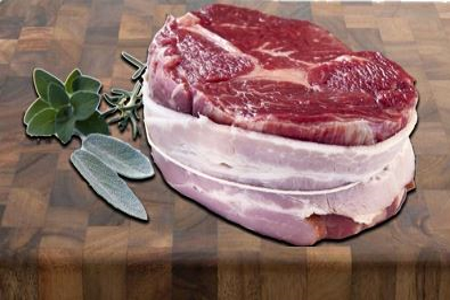 An 8oz Beef Tenderloin Fillet wrapped with Belgian Style Double Smoked Bacon.
The T-Bone is similar to the Porterhouse but has a smaller to no Tenderloin fillet on one side of the bone; basically a "Bone-In" New York Strip.
The best of both worlds. The Porterhouse is a large steak featuring a choice fillet on one side of the bone and a New York Strip on the other side.
A Boneless Steak as great as the City it was named after. This is the large portion on the Porterhouse and T-Bone Steak.
The Flank Steak is cut form the lower abdominal muscle. Flank steak makes excellent fajita or stroganoff strips when cut at a 45 degree bias.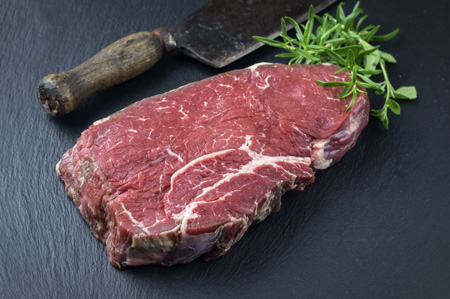 A Round Steak when sliced thin makes excellent Rouladen. A thicker cut (2" or so) is a traditional London Broil, Swiss Steak, and Pepper Steak.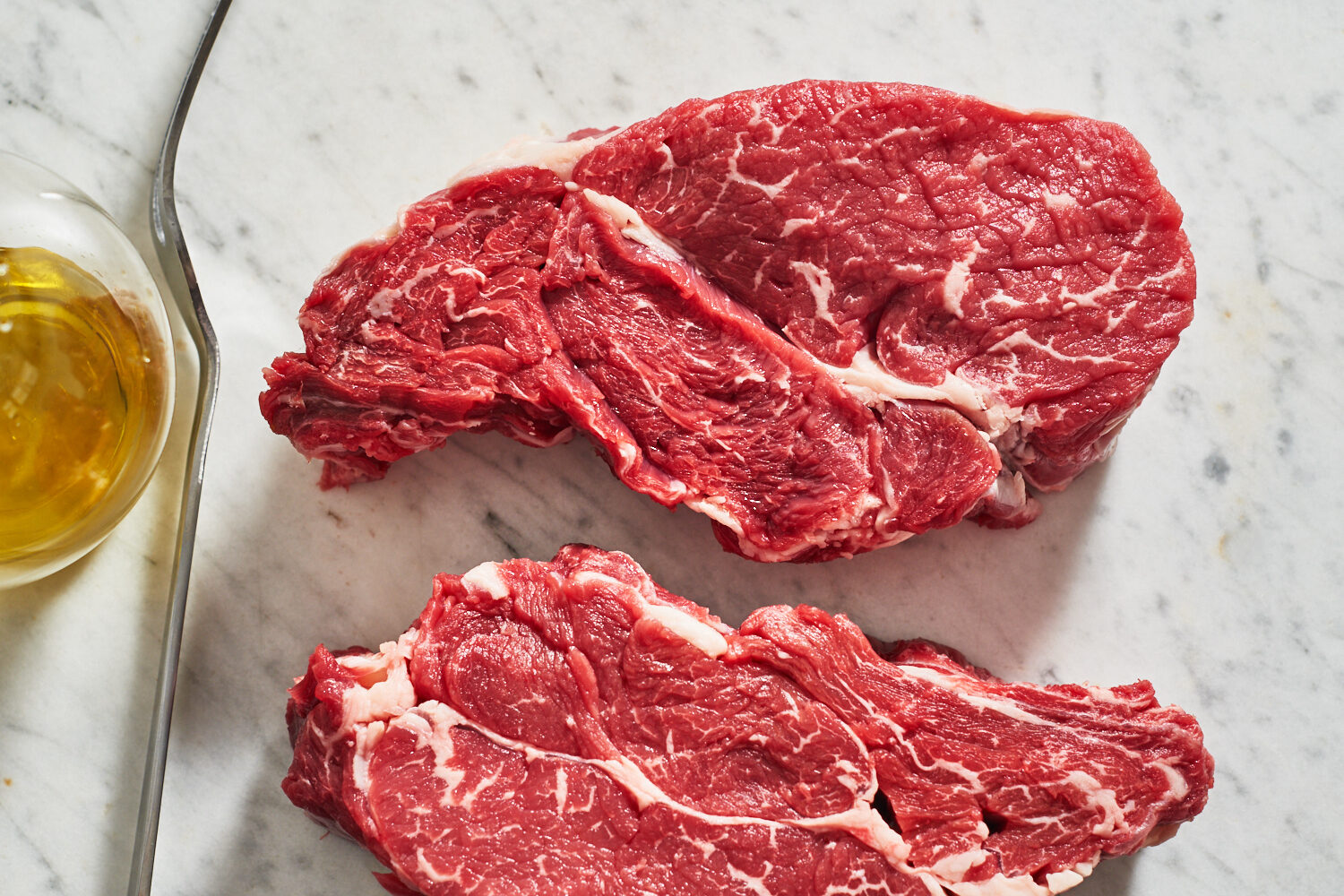 Chuck-Eye is a cut from the blade shoulder, typically only two cuts from the break between the beginning of the blade and the end of the Rib eye. Also referred to as "Poor-Man's Prime Rib".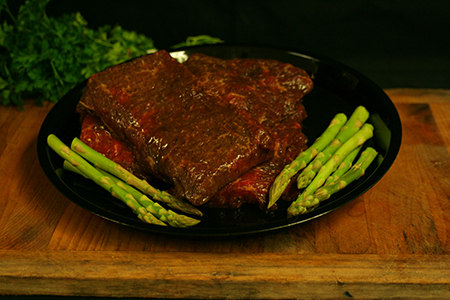 The Flat Iron is a deeply embedded muscle in the Blade of the chuck. The Infraspinatus is a very tender muscle, excellent for grilling. At Bunzel's, We marinade the Flat Iron in a burgundy pepper.
As Good as it gets. Perfectly marbled succulent and Tender Boneless Prime Rib Steak. It will practically melt in your mouth.
Fresh Beef Ribs, Tenderloin, Roast and More
Bone in Fresh Beef ribs from the rib and plate primal. May be cut thin (Korean style) or thick (Flanken or English style) Short ribs make an excellent slow cooker meal.
Tender and Juicy, tenderloin may be grilled or prepared in the oven, requires very little seasoning, or may be marinated. Whole Tenderloin (4-5lbs) serves 8 to 10 guests. We always trim and cut for free.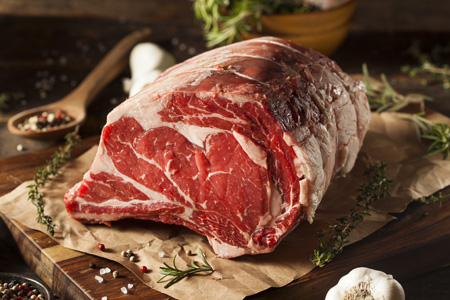 The King of the holiday table, Prime Rib will satisfy the heartiest of appetites. Ask Your Bunzel's Butcher if you would like to have the bone removed and tied back on.
Prime Angus Rump or Sirloin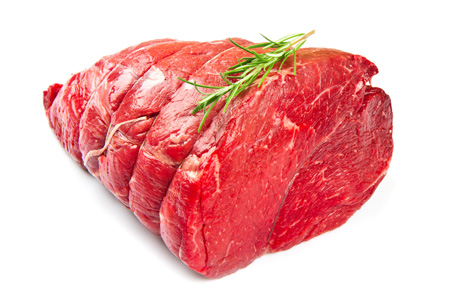 A cut from the beef round, Tender and Juicy Rump Roast makes excellent roast beef.
Choice Boneless Chuck Roast
Bunzel's Chuck Roast is cut from the Blade Chuck. In addition, we remove all the fat and connective tissue from all six individual muscles and then tie the roast back together. The only thing you cannot eat is the string.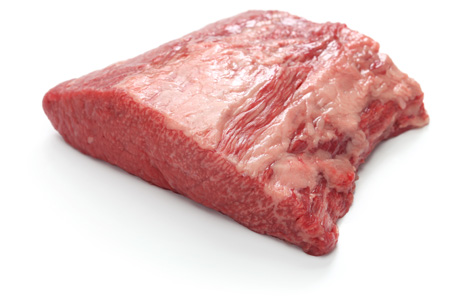 Excellent for Smoking or slow cooking, Brisket may be purchased whole as a "packer" brisket, or as a deckle (Point) cut or most commonly as a flat. Also used for corned beef.
The Beef Stew at Bunzel's is lean trimmed and meaty. Typically cut from the caps of the Certified Choice Angus beef top round or rump.
Beef Tenderloin Shish Kabobs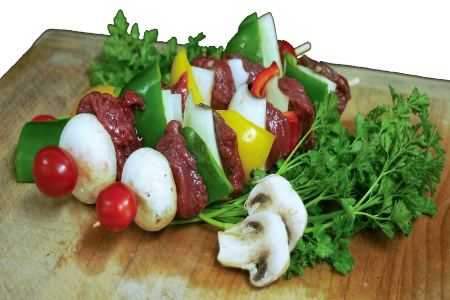 Burgundy Pepper marinated beef tenderloin with onion, bell pepper, mushroom and tomato. Ask your Butcher if you would prefer either mushroom or tomato with your fresh beef tenderloin kabobs.
Seasoned with a bourbon blend and pepper jack cheese then formed into a ½ lb burger patty.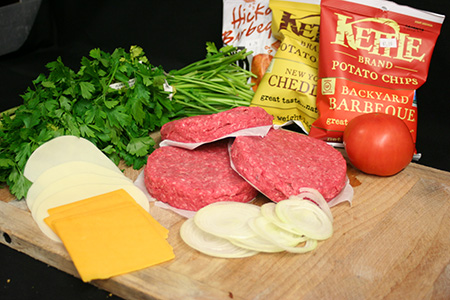 What's not to like? Steak Seasoning mixed into a perfect blend of ground sirloin and fresh trimmed pork belly then formed into the perfect ½ lb burger patty.
1/3 lb Sirloin Burger mixed with hickory double smoked bacon and Wisconsin aged cheddar cheese Bacon and Cheddar.  
Bunzel's Fresh Sirloin Patties
1/3 lb fresh Ground Sirloin (90/10) lean. This one started it all!