WE HAVE SMOKIN' GOOD SMOKED MEATS
Smoking meats is truly an art form. It's a craft to do it right and achieve that pinnacle of smoke-infused flavor. The Bunzel's family has been smoking meats for more than 30 years. We like to fancy ourselves experts at this point.
You'll easily find a favorite flavor in this robust batch of smoked meats. From our award-winning beef jerky to it's perfectly paired sweet and spicy bourbon jerky counterpart… to our special recipe sticks – garlic, hot and smoky, jalapeno cheddar and pepper jack… to our handmade German-style landjaeger and andouille sausage. Take your time, there's oodles of choices.
Plus, if you have trouble choosing, just stock up with a sampler platter, it's the gift that keeps on giving. Stop by soon, you might even catch the smoker in full swing.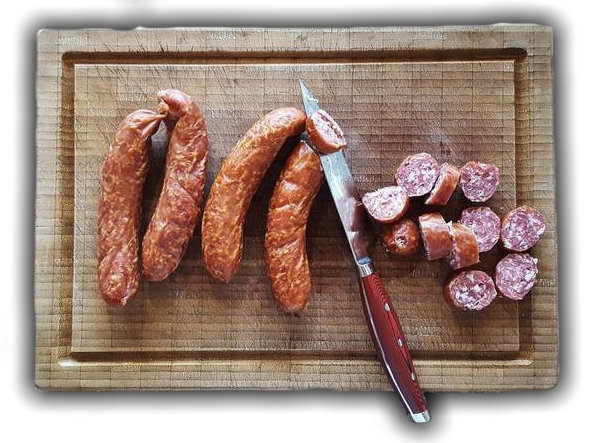 Homemade Smoked Snack Sticks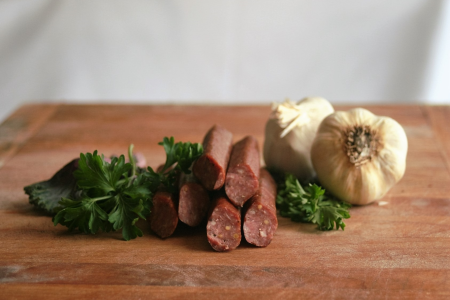 Made in the old world German tradition. Lot's of flavor with just the right amount of smoke and garlic. They will leave your mouth watering for more.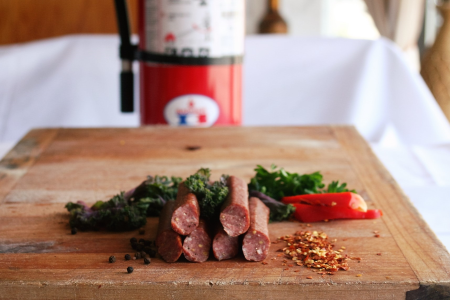 Where there is smoke there is fire. These Old world German flavored sticks have just the right amount of smoke and heat. Get your beer stein full and ready.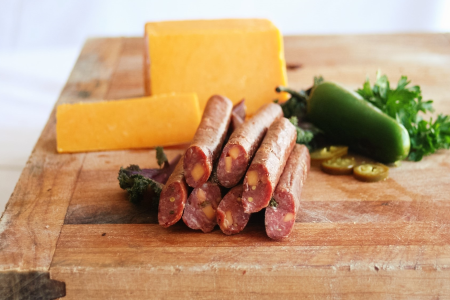 Bunzel's famous snack sticks with Wisconsin Cheese Head Cheddar Cheese and a bit of kick from roasted jalapeño flakes. The perfect combination.
A true traditional German style beef stick. Some call it the Jerky Stick because of the peppery rich smoke flavor. We call it very good – hear the snap in every bite.
Need to heat things up a bit – or a lot a bit?  Eat at your own risk – make sure you have your favorite beverage handy. Quickly becoming a favorite to the brave ones.
Homemade Smoked Summer Sausage & Links
There are a lot of choices for Summer Sausage. We think there is difference. We use the freshest and finest cuts of beef and pork blended with robust spices and smoked just right. We think we got it right. Let us know what you think.
Similar to our fine traditional summer sausage but with a bit of a punch from some of our authentic Hungarian spice. Taste the difference.
Most people use the term smoked polish way too loosely. To them a polish sausage is a polish sausage. We use the term strictly for only authentic polish sausage. Only the right blend of quality beef, pork, and old world polish spices smoked to perfection. Taste the difference.
Originally a French Sausage used to add a bit of Cajun to any dish. It's a Smokey sausage with the perfect Cajun spice. Make your soup or pasta come to life.
Our Award Winning Beef Jerky
Bunzel's award winning Beef Jerky is made from only the finest of the whole muscle meats. Nothing pressed or formed. Hickory smoked to perfection with our famous marinade. A treat for any occasion.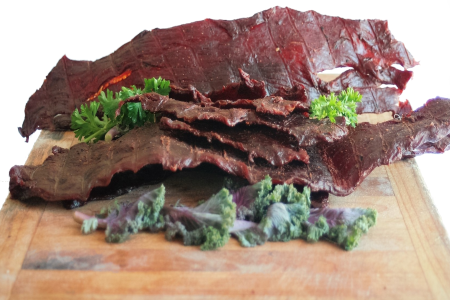 Made from the same great cut of whole muscle beef as our original Beef Jerky but with a little pow. We added a crazy good bourbon flavor along with some down South spices and finished it off with a hint of Jalapeño just to let you know who's boss.
True German smoked wieners with natural casings to give that right amount of snap in every bite. Why have a hot dog when you can have a Bunzel wiener.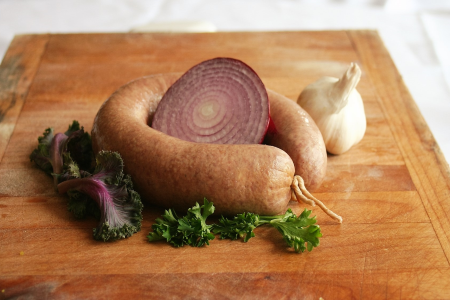 We start with great cuts of beef and pork and add some old world spice. Delicious every time – taste the difference of a small meat market.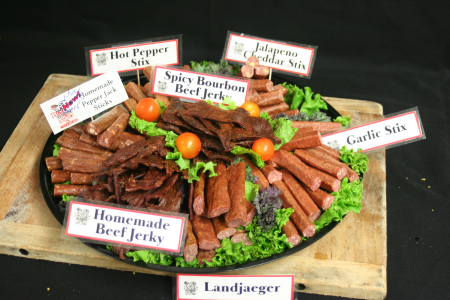 The snack meat platter – Place it on your lap all weekend or share it with your real, real good friends. Contains all your favorites.
Skin on long picnic hocks that are great for making traditional "Boiled" dinners. Tender and flavorful.