TENDER FRESH PORK
IS OUR SPECIALTY
Bunzel's fresh pork is such high quality that people purchase it for cooking competitions, but no worries— everyday folks love it, too. From delicious varieties of spare ribs to amazing pork chops to our melt in your mouth pork tenderloin and roasts, expect to be impressed.
Let's not forget about the ham. Whether you're preparing for a family gathering, holiday meal or a home cooked Sunday spread… Who doesn't enjoy a juicy, flavorful and smoky ham?
If you're interested in special seasonings or specialty stuffings, just let us know. We always enjoy whipping up new recipes that could become the next Bunzel's customer favorite!
All Natural Fresh Pork Ribs
A brisket rib, spare ribs are tender, moist, great for slow cooking or grilling, and/or made with bbq sauce or sauerkraut. We skin these as well.
Cut from the loin of pork, Bunzel's hand cut Baby-Back ribs are Meaty, Lean and and back skin removed and large enough to serve 2 to 3 people per rack.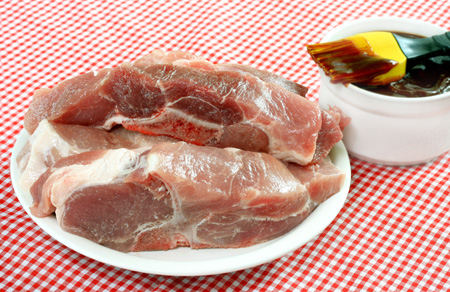 Cut from the rib-end of the pork loin, Country ribs are meaty, lean and great grilled or slow cooked.
All Natural Fresh Pork Chops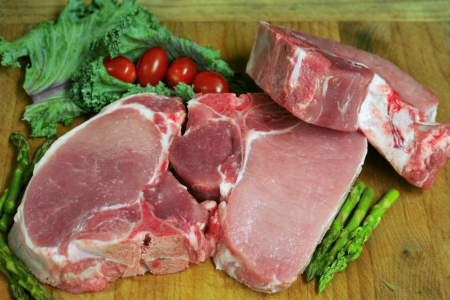 A Porterhouse Pork Chop cut to a 1 and ½", the name says it all. Sear both sides for 2 minutes and finish by standing the chop up on the bone.
Boneless Center Cut Chops
Center-cut Chops from the loin of pork. Bunzel's butterfly's our chops. We also cut thin chops and the "American-Cut" 1 and ½" boneless grilling chop.
Just like mom used to make. Grill, Pan Fry, Broil or Bake. We cut our chops to ¾ of an inch. Ask your Butcher if you would like your chops cut thinner.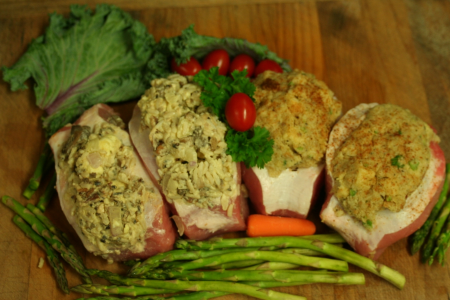 Our All Natural chops stuffed with scrumptious variety of seasonal ingredients.  Stop today to see what stuffing variety we are offering.
Boneless Center Cut Roast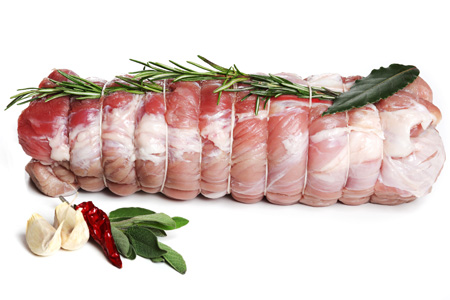 Center-cut boneless pork loin. May be roasted or grilled.
Pork Crown Roast is your table centerpiece!  All Natural center bone-in Pork Loin Frenched and tied to form a circular roast. 14 to 28 bones form "The Crown".
The center cut prime rib of pork. The bones are Frenched for presentation. The heart of the pork loin. An incredible treat for that special occasion but why wait? Have one tonight.
A boneless rib eye end of pork wrapped with Hickory Double Smoked Bacon.  Yes BACON!
Tenderloin of pork typically a pound or so. Truly outstanding and very under appreciated.  One pork tenderloin is usually enough for two adults.
A pork shoulder cut into ¾" steak. Great grilled or broiled.
Ok not chicken. Lean ground pork seasoned with Bunzel's Mock chicken leg seasoning and breaded with corn flake crumbs. Yummy.
Bunzel's Famous Bacon and Ham
Bacon sliced just a bit thicker then you find elsewhere, very smoky and satisfying.
Hickory Double Smoked Ham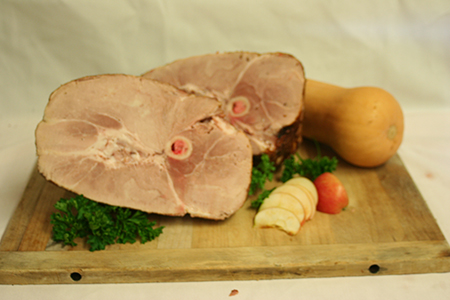 Hickory double smoked to perfection. Available in 1/2 or whole sizes or cut to your specification with or without glaze.  We would be happy to loosen and tie the bone at no charge for easy carving.
A slice from the heart of our hickory double smoked bone-in ham. Perfect for a quick meal anytime.
Double Smoked Boneless Ham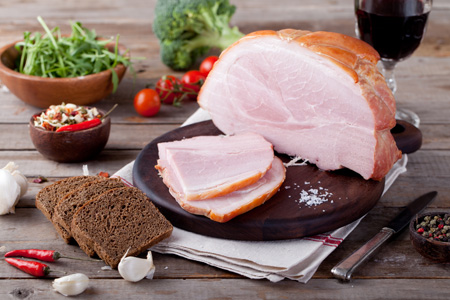 Our double smoked whole or half boneless hams are great for sandwiches, holiday gatherings or a nice Sunday dinner. The boneless hams run 9 to 10 lbs each and we can custom cut a certain size for you.