OUTSTANDING
FRESH SAUSAGE VARIETIES
Wisconsinites are famous for lovin' their brats and fresh sausage and at Bunzel's, we're no different. While there are many takers for the classic brat (yes, we have a delicious version), we do like to get a little creative with ours.
From our #1 customer voted favorite, Honey Mustard brat, to our juicy Three Cheese Chicken and Reuben Brats to the Irish Bangers and Artisan Texas Popper Bacon Brats… whew, and that's just for starters. Or… if you're more on the daring side, you'll have to try our Triple X brats, can you say "that's a spicy sausage!"
If you like brats and sausages, our fresh meat case is a showstopper. We have a dedicated section to celebrating fresh brats and fresh sausage. Throughout the year, we typically offer at least eight flavor varieties. During peak grilling season it's off the charts!! We usually have at least 12 to 15 handmade, delectable flavor combinations in the case. Plus, we usually have more combos available in our fresh frozen meat case. The possibilities are endless.
Stop in and see for yourself, you're sure to find another treasure like our newest yummy flavored breakfast sausage to make your day just a little sweeter!
Introducing Our Homemade Originals…..
Bunzel's Famous Bratwurst
A taste of the old Country. Bunzel's original bratwurst recipe combines old world flavor with our lean fresh ground pork.
Just for our beef lovers. Bunzel's Beef Brat starts with lean ground sirloin with a small bit of beef trimmings for juiciness and flavor blended with our original brat recipe.
Our Italian sausage is one of our staple sausages. Fresh all natural ground pork with Italian seasoning, white peppers, and just a touch of Anise. Great grilled on a seeded roll or in your favorite spaghetti sauce.
The Porkie! The freshest all natural pork blended with our secret breakfast sausage recipe. The littlest sausage in our arsenal of fresh sausage packs quite a flavor punch.
Our Homemade Specialty and Flavored Sausage
3 Cheese Chicken Italians
Looking for a change of pace? We grind our own all natural lean chicken breast and add a blend of aged white cheddar, mozzarella, provolone cheese, and Italian herbs and spices.
Another one of Mr. Bunzel's creations. We make our Polish Sausage in a traditional link that will satisfy even the larger appetites. Pan fry, Grill, Bake, or Smoke. Enjoy!
Honey and mustard in a brat? Do not let the name mislead you. Our honey mustard brat is a year long staple and is by far our best selling creation. Don't be the last one on your block to try it.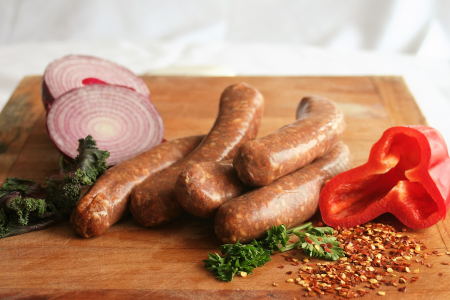 Get your favorite beverage ready. This spicy favorite is made with fresh Hungarian paprika which packs the right amount of heat. Great for "Sausage and Peppers".
Spicy jalapeños and creamy cheddar await those who are looking for a bit of an adventure in their grilling experience.
Beer…Check….Onion….Check. Our traditional brat seasoned with…you guessed it…beer and onion. It's a sure treat.
Mmmm – Do you like Gyros? We do too. That's why we created our Grecian Lamb Sausage with Greek Spices and our own all natural domestic lamb. Try it on a pita with your own Tzatziki Sauce (Cucumber Sauce for you Gyro newbies).
Straight from a small butcher shop in Ireland. Mr. Bunzel traveled to Ireland for the Guinness and a Irish Banger Recipe. The Guinness never made it back.  A light sausage with a hint of Lemon Zest. Perfect for a meal of "Bangers and Mash".
Another one of our signature sausages. Our Texas Popper is made with lean all natural ground pork, aged pepper jack cheese along with….wait for it….BACON! Mmmmmm Bacon. We hear you.
Since Chorizo does mean sausage in Spanish we knew we needed something special for this South of the border treat. Not too spicy and not too mild. Can be purchased in links or bulk. Our Chorizo fits the bill in a bun or crumbled in your favorite breakfast burrito.